Today we have all briefly presented our most recent progress with our APP projects with the main purpose of receiving feedback from both our peers and tutors. As usual, we each took independent turns in showing our ideas via a PowerPoint presentation. In an honest opinion, my presentation went so-so as I feel like I should have had more to show than I had, or simply because my speech was not up to par as I had hoped with several moments were I failed to properly explain my ideas and research due to my babbling lagging behind certain slides. In the end, even after going over several ideas during the feedback, I still feel like there were things left unsaid. Either way, I did receive some helpful advice concerning my overall of the cover idea.
My tutors (who were the only ones who gave me any advice (something that doesn't really sound good to me)) gave me fair bit of advice about how I should have taken the perspective and size of my world into account when creating the drawing I had shown them, as from the angle I used for my sketch did not really express the length and magnitude of the character's journey from their current spot to their apparent destination. This was because my failed use of perspective made the pyramid (destination) look a lot smaller than it actually was and the path design I used did not help to make it look like it was a great distance away.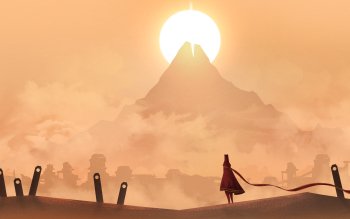 They helped to point this issue out by looking back at one of the images I used for the Journey game slide, which showed a perfect example of this missed use of perspective. This images uses what looks like only 3/4 layers of background alongside the character, yet the picture easily expresses the magnitude of the mountain (and unknown distance) before them. I believe that they were able to do this by taking the perspective of the image level with the character, making the mountain seem huge compared to them and hiding any clues as to how far away it is.
They also recommended looking at an artist by the name of Caspar David Friedrich, an artist we once looked at during class. It may be helpful for me to at least look at some of his works to help improve my ability at drawing landscapes.
Overall I have learned some important pieces of information from my feedback, as well as some of the feedback as others, such as finding a typeface which fits the themes of my design over looking nicer, as one of my peers found when they used a fancy font for some of their text which, while pretty, look like it belonged more in a Christmas card than a anti-pollution campaign.
My Presentation – APP Presentation